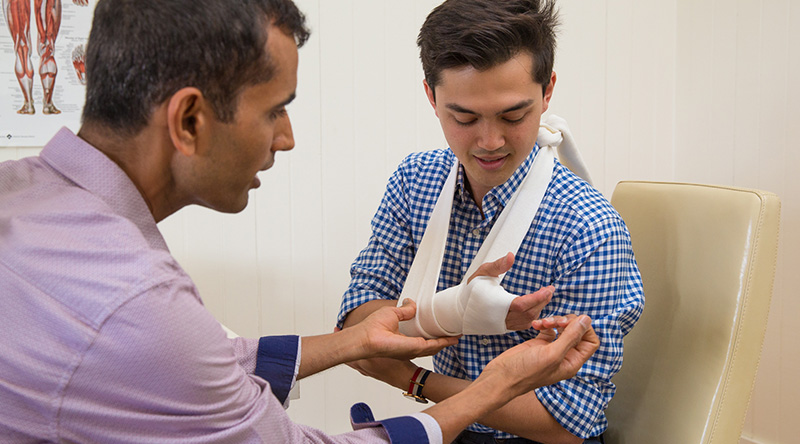 Massage and Inflammation – Part 2
17
Sep
2019
Tagged as
Posted by Evolve College News
Can I massage a client with acute or chronic inflammation?
This is dependant on the individual case, which is why it is essential to have a thorough understanding of your client's condition before commencing your session. If your client is experiencing acute inflammation such as an injury, then massage to the area is contraindicated until the acute stage of inflammation has subsided. Massaging directly onto an area that is inflamed can make it far worse and further irritate the muscle, tissues or joints, as well as aggravate an injury. In some cases, it may be beneficial to massage the areas around an injury to loosen up surrounding muscles and release any restrictions, but this will be dependant on the individual case. For the majority of clients experiencing the acute stage of inflammation, it is recommended to wait until this stage has passed before having a massage therapy session. Massage therapy in the later healing phases of an injury can support to increase movement and relieve stiffness and pain in joints.
For clients experiencing chronic inflammation, there is varied research as to whether massage can be directly beneficial. The following is important to consider for clients experiencing chronic inflammation:
The cause of the inflammation needs to be fully understood by both you and your client. If your client is experiencing chronic inflammation but is unsure as to the cause, then it is important to refer them onto their GP for a diagnosis.

Massage therapy has been shown to support clients in lowering stress levels, improving overall mood and improving sleep. These three factors will have a positive impact upon the body which in turn, may support to reduce chronic inflammation in your client.

Chronic inflammation caused by conditions such as arthritis may be supported by massage therapy by relaxing muscles and releasing tension, reducing your client's pain and overall physical discomfort.
As with any condition your client may be suffering from, ensuring that there has been a proper diagnosis, knowing your scope of practice and having a clear line of communication with your client is essential. Massage therapy as part of an overall healthy lifestyle for your client can support with chronic inflammation, however cannot claim to 'fix' the issue. It is important to be clear about this with your client and if required, refer them on to their health professional for anything outside your scope of practice.