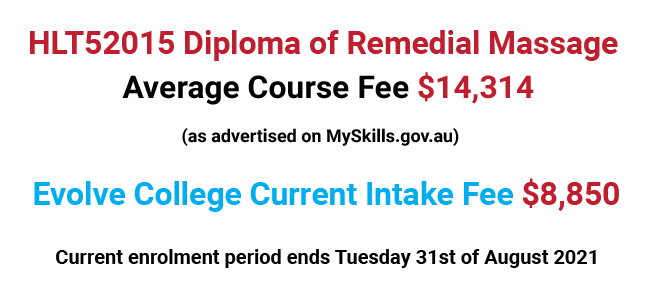 *Massage courses are HLT42015 Certificate IV in Massage Therapy and HLT52015 Diploma of Remedial Massage
Nationwide Accredited Training Centres
The availability of nationwide training centres gives you greater flexibility, so you can change training centres to suit your needs and at a very reasonable fee. Evolve College's Training Centre in Launceston, Tasmania is a long-standing location of ours and one of our 13 nationwide training centres, where we deliver our superb massage education and training.
Building on the rich history of our founding team, which has more than 20 years of solid experience in massage education, Evolve College is the largest private RTO in massage in Australia. Our courses set a very high standard in professionalism and quality of both training and massage practice.
* Accredited training is available in HLT42015 Certificate IV in Massage Therapy and HLT52015 Diploma of Remedial Massage.
Leading The Way in Massage Training
Evolve College offers a learning experience and opportunities unlike any other massage training school. Our focus is on offering the most comprehensive, inspiring and practical massage curriculum available. This is reflected through our partnerships with many organisations throughout Australia, building on the many dozens of partnerships our team has had with community organisations for over 10 years. Evolve College is called upon to provide massage at very high level events including national conferences, top sporting events, fundraising or charitable events, as well as community events. The feedback received is exceptional, which is a testament to the quality of our College, and our students.
Industry Recognised Training
Massage courses offered by Evolve College are nationally recognised and available at a therapeutic relaxation level as well as an advanced remedial level. There are 2 Vocational Education and Training (VET) massage courses recognised within the massage therapy industry. Both courses are offered by Evolve College:
HLT42015 CERTIFICATE IV IN MASSAGE THERAPY (Subjects 1-8)

6 month minimum study program (1 year maximum duration)
12 month Centrelink registered course (subject to approval of your Centrelink application by Centrelink)



HLT52015 DIPLOMA OF REMEDIAL MASSAGE (Subjects 1-15)

12 month minimum study program (2 years maximum duration)



Flexible Timetables and Unique Training System
Our flexible timetables enable you to transfer from one timetable to another and you can even defer your course to take time off for any reason. Reasonable fees apply. See our Administrative Fee Schedule for details.
We also use a unique training system to maximise the value you get from your learning. As well as meeting all requirements of the HLT Training Package for our qualifications, our training allows you to learn in the study mode most suitable for you – on-campus or correspondence - the choice is yours.
Our on-campus study program meets the educational criteria of Medibank Private for Remedial Massage Therapists, which means that on completion and satisfaction of all requirements, you will be eligible to apply for a Medibank Private provider number.
Want to Learn More?
HLT42015 Certificate IV in Massage Therapy
HLT52015 Diploma of Remedial Massage